Voici l'interview originale de la célèbre illustratrice espagnole Cris Ortega (réalisée en 2010) !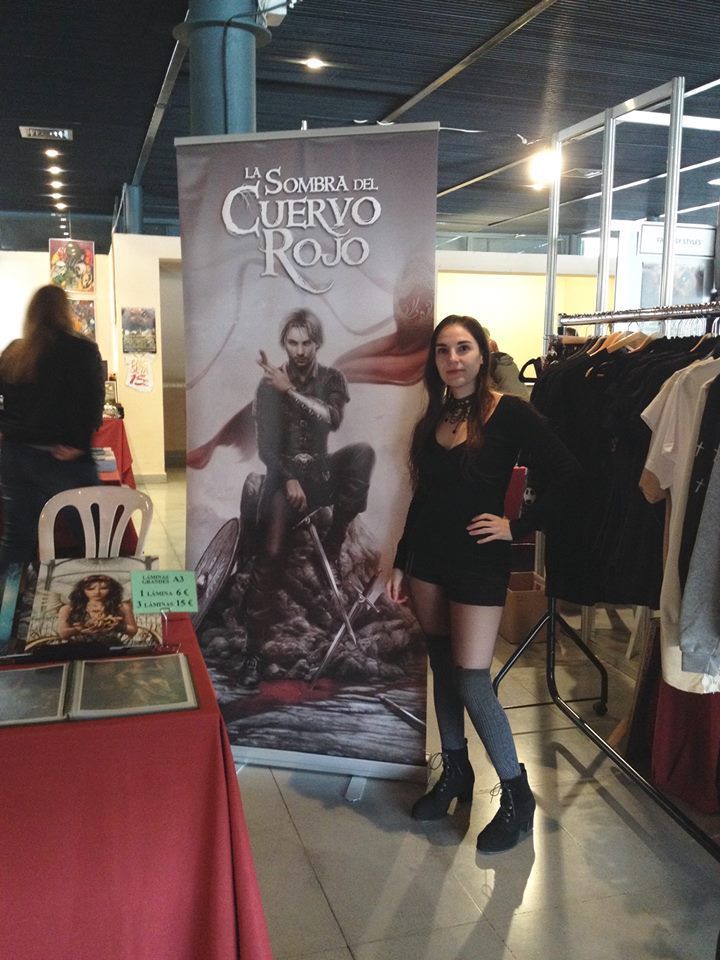 1. I read that you are using a graphic tablet to make your creations, which are mostly CG made. I read that you're using Photoshop and Painter. But do you start directly on the computer or do you need to start from a paper sketch ?
My first approach at art was with traditional techniques, so now that most of my works are digital I still need to work with paper and pencil. Most of the times I began with sketches, that later are scanned and used as a basement for the image. A very few times I do the sketch directly with Photoshop, but that is when I'm playing around with speed paintings. Indeed, some of my works have a mixture between digital and traditional techniques, althought most of it is CG.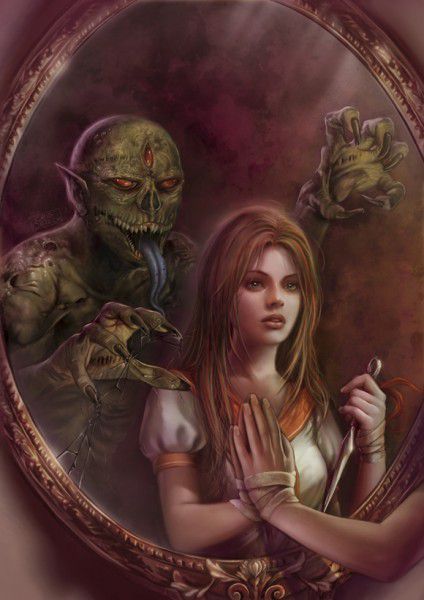 2. Most CG artists are working on MAC, are you an apple user too ?
I wish =). MAC is the perfect tool for a digital artist, but I'm still grounded with a PC. The reason is that several years ago, when I was only at the beginning of my career, I was working as art director for an advertising agency. There, all the company used PC instead of MAC, they had their own reasons for that. But as I had to do some work on home too, I begun working mostly with PC. Now I have a very good equipment with selected hardware that works pretty well and my own technician if something happens =). But, as soon as my current equipment fails, I'm planning to change to MAC for better results.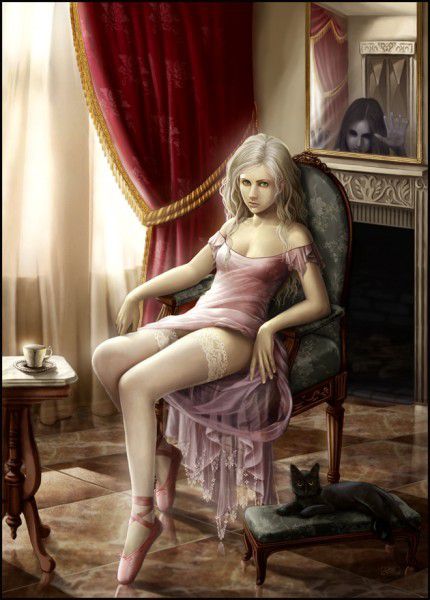 3. Sorry for the geek question but did you ever tried the free software called GIMP ?
Not for the moment. I heard about it and I will surely try it in the future, when I have enough spare time to make some try-outs. I have my doubts about the capacity of the software with very big canvas (I have too many problems with big sizes in Painter too), so I will need time to work with it at the hardest =).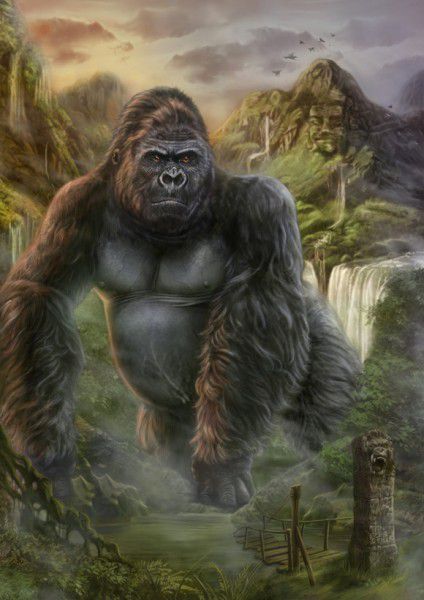 4. Which artists had an influence on your work ?
If I make a list we will never have an end in sight =). There are too many artists and writers that inspired me at some time, I have always been a lover of all kind of art, and my influences come from comics, films, books, classic and modern art,... My favourite illustrator was always Luis Royo, but I'm also very influenced by the old masters of renaissance, barroc, victorian and preraphaelism art. And, of course, the works of a lot of traditional and digital artists of today have a great influence in my work, along with the literature creators, comic artists and other great creators of all fields of art.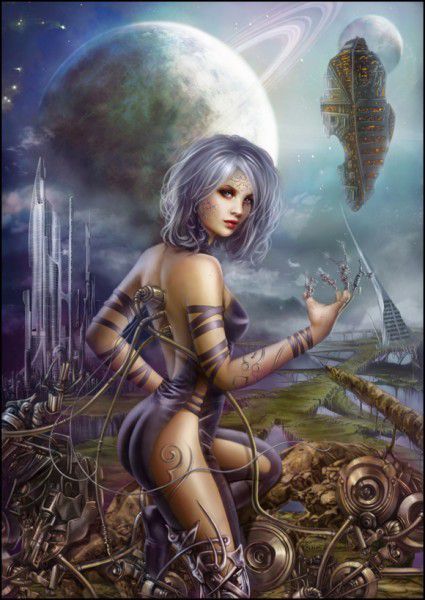 5. The tome 1 of your Forgotten books serie has been published here in Belgium. I saw on your site that the third tome is coming soon right ? Do you already have plans for new artbooks after the forgotten serie ?
Yeah, I have too many plans and very few time =). The third volume of Forgotten is already published in Spain and will be available in english soon, but there's still a lot of work to do. For the moment, there will be a fourth volume -the last one- in wich I will began working soon. But I also have plans for several new artbooks in the future; some will be series and some other will be self-conclusive. I want to touch a lot more of themes and styles, such as fantasy, scifi, steampunk, gothic and horror. And there's also plans for novels and comics too. I hope to be able to do most of this projects =).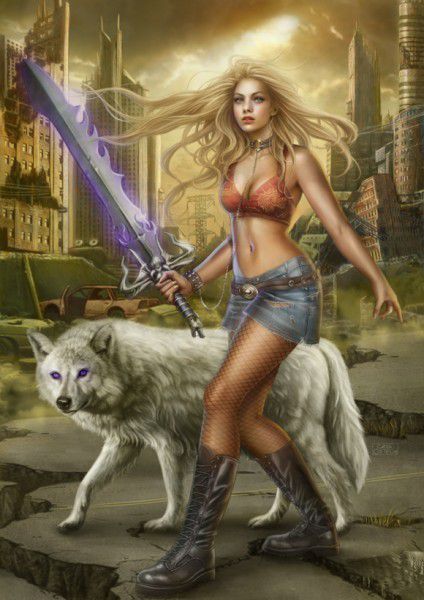 6. Speaking about the Forgotten books, did you also wrote the texts in it ?
Yes, I do all the writing. I was a writer before being an illustrator, but I stopped some years ago, far before I began working on comic field. Later, I tried to make some few verses to accompany my artworks, since I missed writing so much, and it was a good way to tell more about the story that I wanted to approach with the painting. I think I still have a lot to improve with my writing, since I didn't have as much practice as with painting, but the best way to explain your own stories is writing yourself if you have the opportunity =).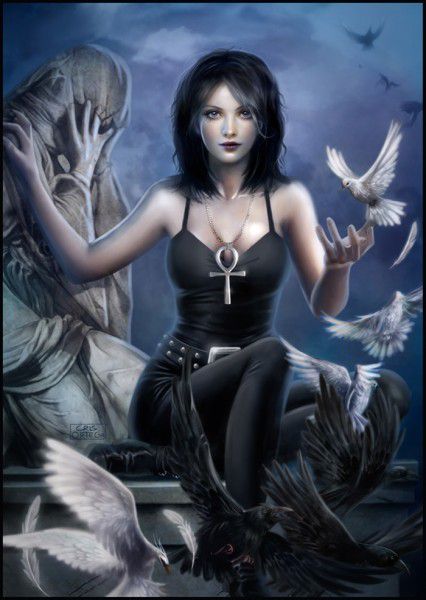 7. I saw on your blog that you have calendars, portfolios, artbooks, postcards and even puzzles. How does it feels when you see merchandising made from your own art in your local store ?
It feels strange and great at the same time. Sometimes is like you're watching another artist's work, not your own. I still feel myself surprised whenever I saw my merchandising in a store.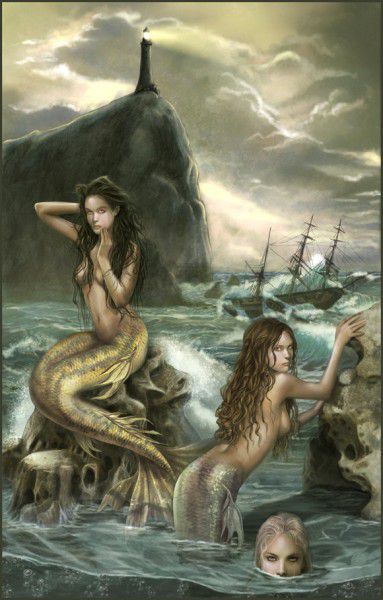 8. Most fantasy arts are showing female characters. Even female artists (Julie Bell, Victoria Frances and yourself of course) are painting women. Is it because female characters are more sexy or attractive to look at ?
That's the main reason, of course, but not the only one =). I found the female form as an image of beauty and armony. If you check artworks from any culture and time, you will always find the figure of the woman on them, since they're representative of our idea of beauty. But it's also more easy to approach feelings and mistery through the female form; after all we have on mind that woman is more sensitive and misterious.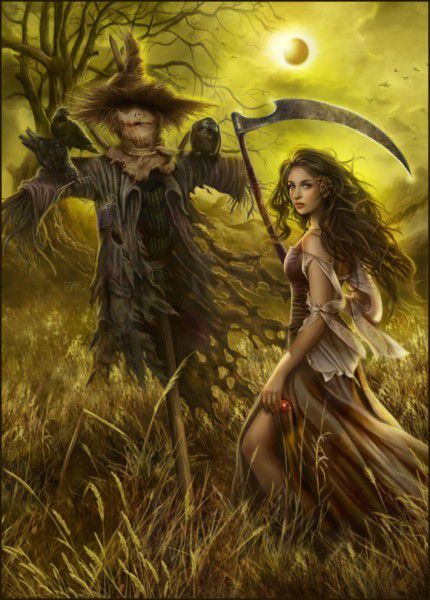 9. You were once commissionned to do a whole chess game ! Do you have other special commissions like this on the todo list ?
Design a chess game was a different and interesting experience =). I had some projects of this kind in the past, but there's no other special commissions on the near future. But I will be more than glad to try again with another challenge if I get a proposal.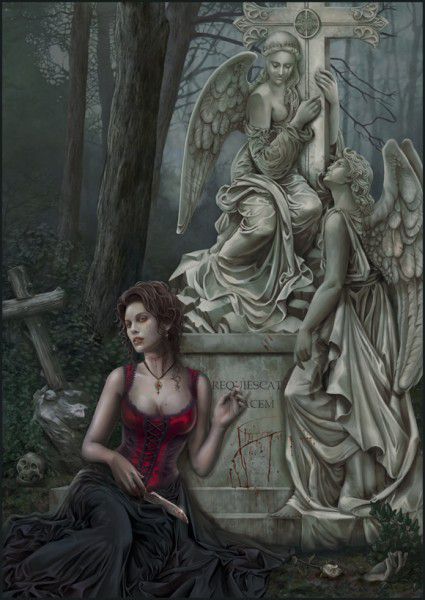 10. A lot of fantasy artists came from Spain ! Luis Royo, Javier Trujillo, Victoria Frances... do you know them personally ?
I had the pleasure to meet in person a lot of fantastic spanish and foreign artists these last years, and share with them techniques and points of view, and a lot of great moments. Luis Royo works in the same publishing house as me, so we meet from time to time and have a very good time together; he's a incredible artist and a better person. Javier Trujillo is a very good friend of mine, who I admire and have in great stimation. And I also had the pleasure to share time and laughs with artists like Alfonso Azpiri, Carlos Pacheco, Purita Campos, Juanjo Ryp, Carlos Diez and a lot more of great artists and friends.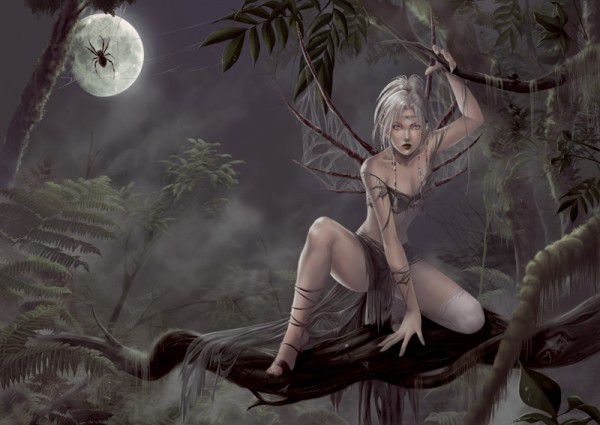 11. What do you think about all the social networks of today ? You know, Twitter, Facebook, MSN, Google+... are you interested in all these new communication ways ?
I think social networks are part of today's life. It's the way people have contact between them. It's also a good way to approach people you admire and the ones that are very far to meet personally. I'm a user of several of these networks, I have my own profile on twitter and facebook, and I found there several friends from all the world and make contact with other artists. It's also a perfect way to share news, artworks and events, and to talk with people who enjoy your works.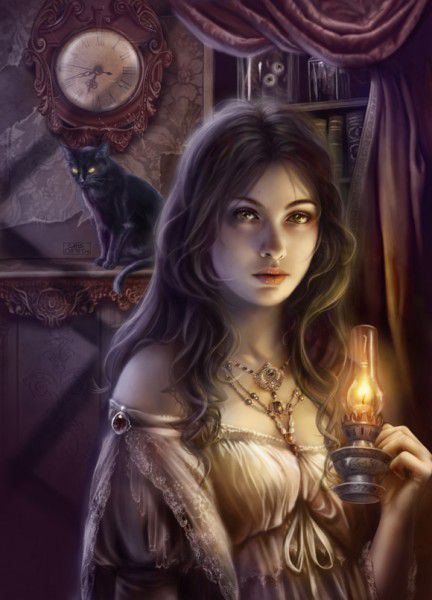 12. Japan is more and more present in european countries, we have all the manga, the anime, the PVC figures, the J-Pop artists, the cosplay, the anime events, and so on. What do you think of this japanese wave ? Are you in it ?
I was a lover of japanese culture even before the big wave =). I like to study history, mithology and foreign cultures, and oriental tradition was always fascinating to me. My art is part influenced by manga, since I love all kind of art and have a fixation to mix several styles in my works. Japan is a very artistic country, and fascinating in several ways; I have been there for a time and enjoyed both their traditions and their popular culture. So, yes, I'm very much in it, as I'm in most of the great cultures the world have to share, and I enjoy manga, anime, cosplay, and music.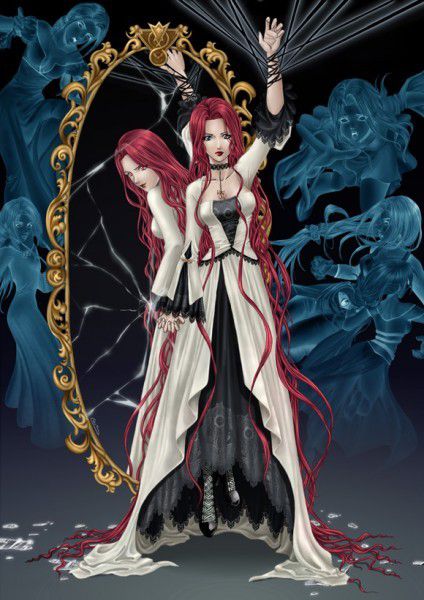 13. Do you listen to some particular music to work, to get the inspiration ?
Not to get inspiration, but to accompany myself while working. I usually listen music while I'm painting. The kind depends of what I feel in the moment or the kind of work I'm doing. Could be from classical to heavy, but my favourites are gothic-celtic themes.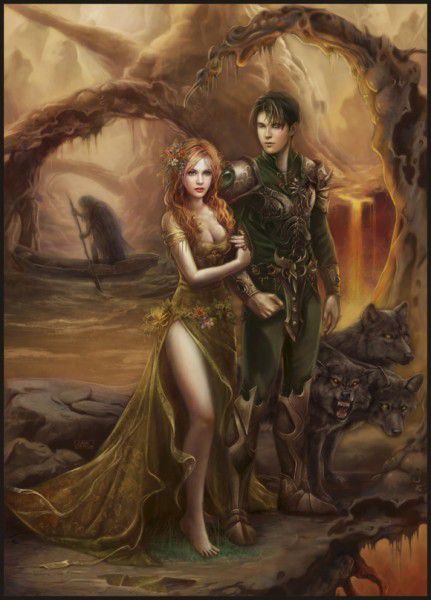 14. Where do you take your ideas for new creations ?
I don't have a concrete source of inspiration, it just comes to me when it wants; sometimes it's something I saw in a travel, sometimes comes from the books I read or the movies I saw... but most of the times the ideas just come while I'm working or when I'm thinking about other things. I believe everything it's an influence: the things you study, the people you meet, the artworks you see... And I always put a lot of hints in my paintings about the symbolism, myths and history that I read or learn about in my life.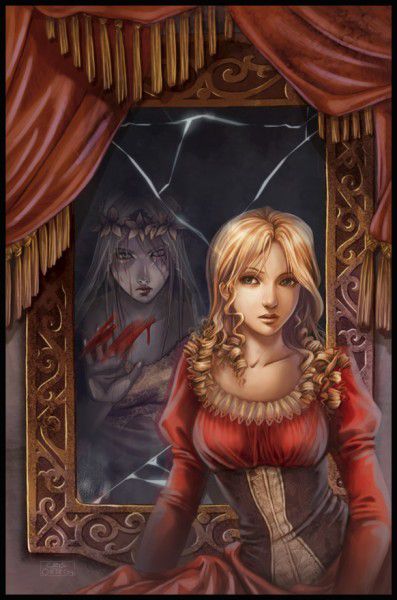 15. At work, I have the "SCARLETT & RAVENS" poster behind me, on my wall ! Do you have anything special to say about this paint, does it have his own little story ?
That's great to know, I feel honoured =). Indeed, the paint has a story. It's one of the artworks compiled for Forgotten 2, for the story "The scream of the Banshee", that tells the tale of an irish banshee. A banshee is a ghoul from irish mythology, a woman usually depicted wearing a white or red dress, wandering around lakes and forest. They said that the banshee screams when somebody is about to die, and if you hear her cry it means that you're gonna die soon. So, be careful .
The real title of the artwork was "Around the Ghoul's Forest" (companies usually change the names of the artworks at their tastes, don't know why). A lot of symbolisms of death were added, as the crows, the foo fighters on the lake and the candles.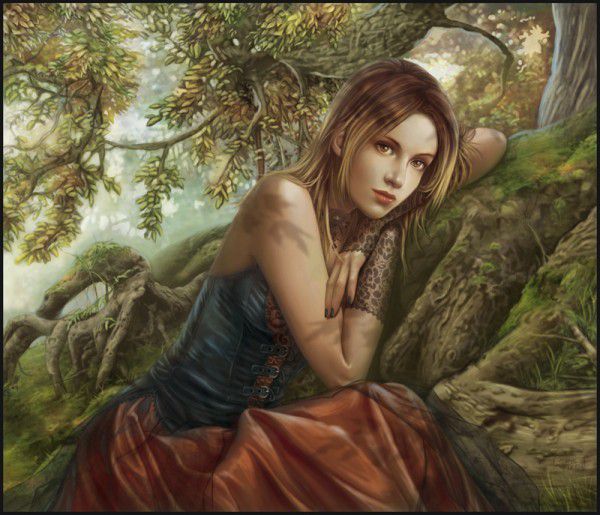 16. The internet has become so huge that it's almost impossible to control anything. Music artists suffers from piracy for example, but what about painting artists ? Did you ever encounter people selling false printings of your works for example ?
Indeed, I do. Painting artists have a lot of problems with piracy, but more because for the general knowledge it seems that art is free and they can do whatever they want with it. Most of the times we find people uploading our art to their sites, sometimes as a compilation of art they like but without any kind of copyright info or even the names of the authors, and sometimes they claim to be the real authors. The last kind are the most difficult to speak with, because they began to insult and assure they're the authors even when they're talking with the real artist.
But there's also people who sell prints or other products with our works. The problem with them is not only that they're making money from artworks that are not their own, but that they took the art from the internet, so the final print lacks quality. It's a double trick, for the artists and for the clients. I encourage to buy the products I announce on my website, but if anyone prefer to buy the false ones, it's better to print themselves the works: the quality will be the same and at least they will not have to pay so much.
The piracy is not only for personal uses: there are companies and publishing houses who also steal the artworks from internet and sell their products with them. If they don't make an agreement with you or don't like the price you want, they steal the works and use them anyway. And that's our real problem, that companies and clients don't want to pay for art, they usually ask you to work for free or think that including your name as the author is enough payment. And then, private people began to think the same.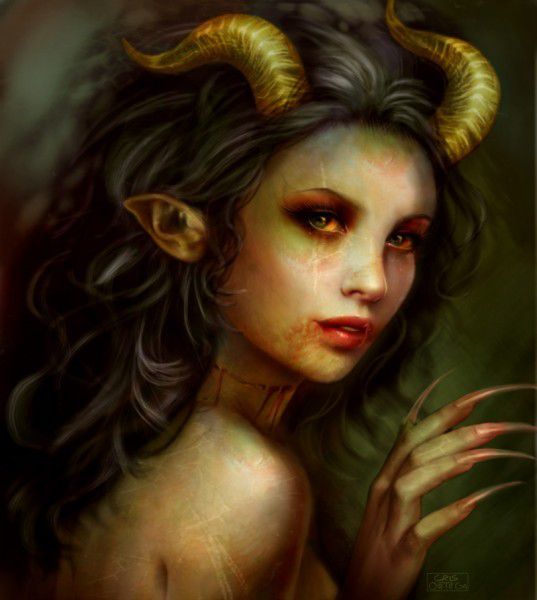 17. Sometimes, some fantasy art becomes a PVC figure or a resin statue. I've seen a lot of statues these last years, made from artists such as Dorian Cleavenger, Royo, Vallejo, and more. Would you like to see one of your creations coming to life in a 3D form ?
I would love to =). Some years ago I had some proposals of this kind, but we never get to a final agreement. I would love to see some of my works in 3D form, it's a different approach to art that I always admired.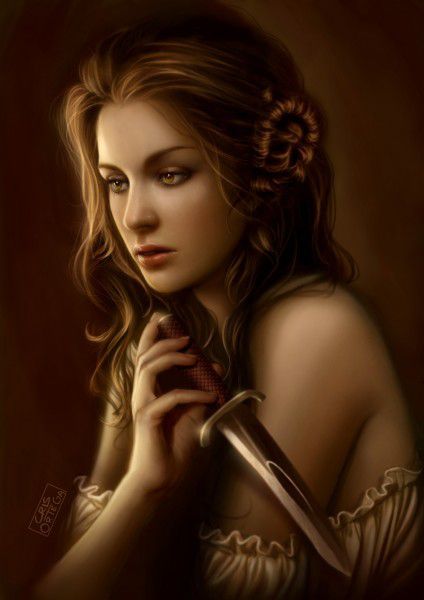 18. Any new project in sight, unless it's top secret of course ?
Right now my most important project is the fourth and last volume of Forgotten, in which I will began to work pretty soon. But I also had some projects on my desk for the near future. There's a comic project, several novel projects -both alone and with other authors-, a new exhibition on sight, and a new artbook as soon as Forgotten is finished. I also have plans to make some spare artworks that are waiting for a long time, with themes of steampunk -one of my present favourites- and some fantasy and horror artworks that perhaps will be compiled in other artbook soon. Too many projects and too little time =).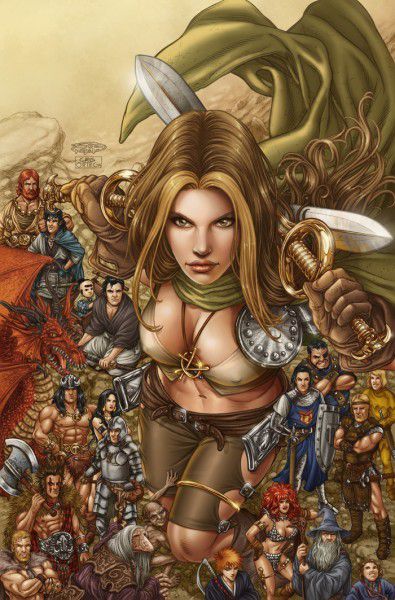 19. How much time does it take to complete a new art from scratch ?
It depends of complexity, canvas size and mood. The usual is around two weeks for an artwork, but I can spend more time with difficult complex works with several characters and background, or less time with small size works with only a portrait. My more quicker artworks were around two hours, and the ones in which I spend most time were around two months.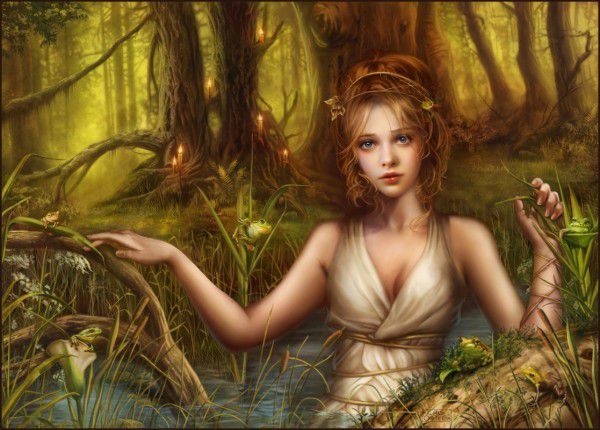 20. Thanks a lot for this interview, would you leave a comment for the readers ?
Thanks for the support and for enjoy fantasy art =).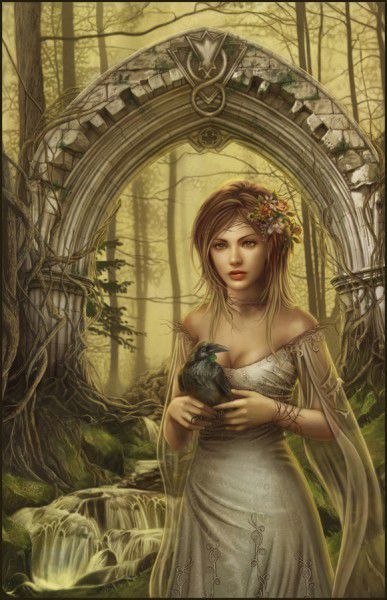 Voici le dessin dédicacé qu'elle m'a envoyé par email :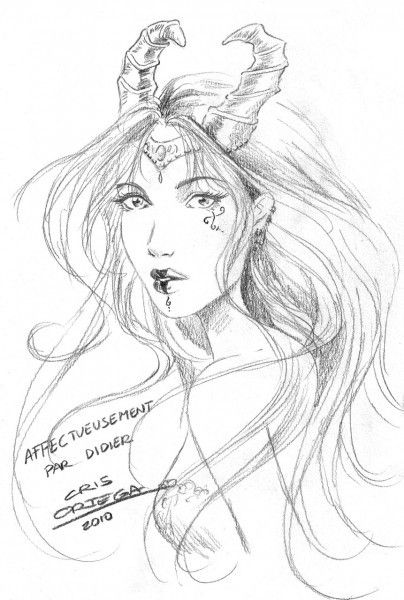 Visitez son site officiel : http://www.crisortega.com
Visitez son blog : http://cris-ortega.blogspot.com
Sa page facebook : https://www.facebook.com/crisortega/