Voici une autre interview perdue et restaurée dans sa version d'origine ! Il s'agit de l'artiste américain Clyde Caldwell, avec qui j'avais eu de très bons contacts à l'époque. Interview réalisée en 2009 !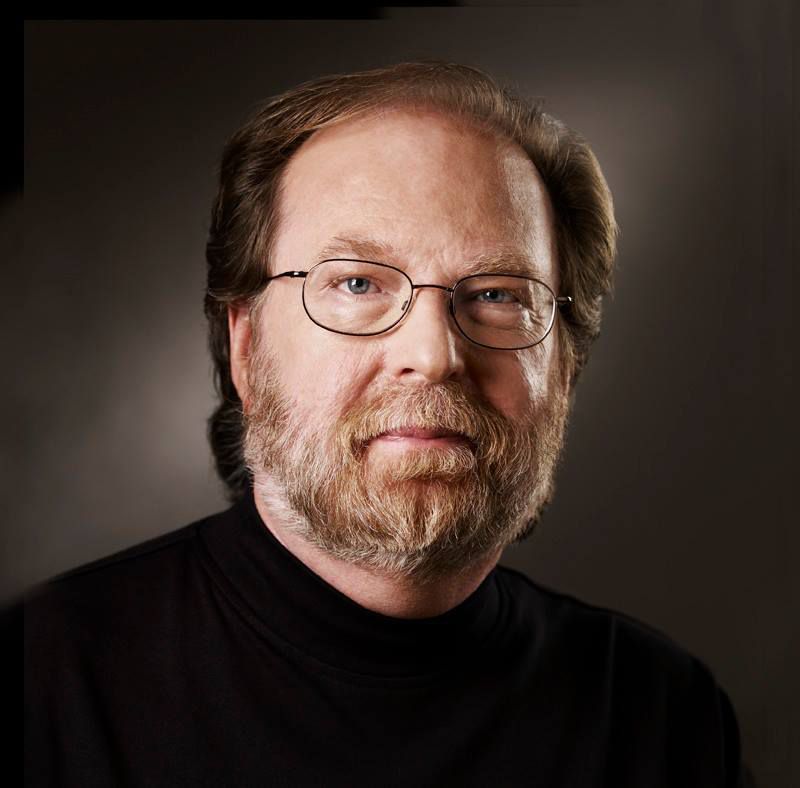 WORK RELATED QUESTIONS
Do you have favorite locations or places to get the inspiration of painting ?
I probably get most of my inspiration sitting at the drawing board in my studio. Though there is a nice view of the woods from the patio doors in my studio and I have to admit that it can be inspiring at times.
I can get ideas anywhere, anytime, but when I sit down at the drawing board and start to sketch, I see which ideas work and don't work. A lot of times, the ideas I settle on for a painting evolve through this process.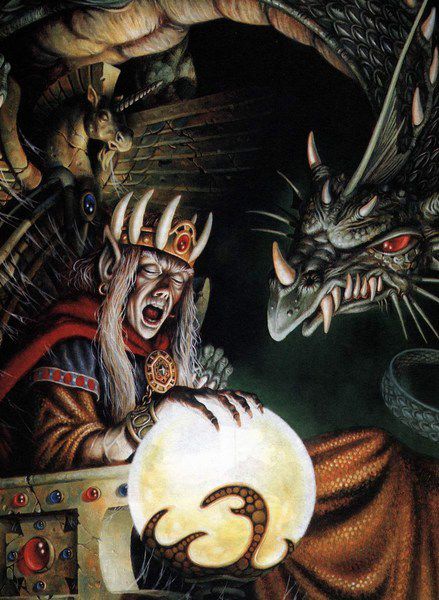 ©2009 Wizards of the Coast, Inc. All Rights Reserved
How do you get the ideas of your works ? From books, movies... or just imagination ?
I've done a lot of book covers in recent years, so I start looking for inspiration by reading the manuscript. While reading the book I take notes and try to envision scenes that I feel will make good cover paintings.
Of course I've always been inspired by the works of other artists I admire...and movies, TV,books, travel or any number of things can have a tendency to fire the imagination.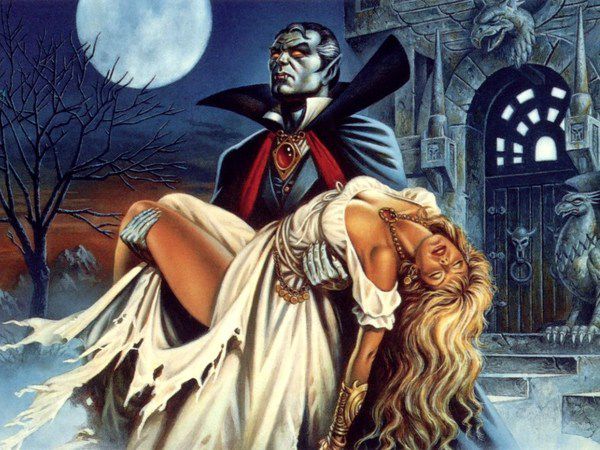 ©2009 Wizards of the Coast, Inc. All Rights Reserved
What material are you using to paint ?
For many years I've painted almost exclusively in oils, though I do my underpainting in acrylics. I started out using mixed media, airbrushing dyes and gouache and tightening them up with colored pencil...anything to get an effect. I quickly moved on to acrylics, but wasn't able to get the level of blending that I was looking for...so then moved into oils.
I still do some occasional black & white acrylic wash and airbrush work though...and I work on extra-heavy weight illustration board.
I also enjoy doing nice, finished pencil drawings. I've always been a fan of black & white, tonal work.
©2009 White Wolf Game Studio All Rights Reserved
Do you use computer graphic tools to modify or finalize some of your works ?
I work traditionally and don't do any digital artwork at all. After a painting is finished, I have a digital photo shot of it by a professional photographer for reproduction purposes. Sometimes these digital photos need to be cleaned up in Photoshop, since they tend to pick up dust specks and such brought out by the lights used to photograph the paintings. Other than that, I don't do any digital work on the artwork...and this is just to get the digital file to accurately represent what the original painting looks like.
I do utilize the computer when putting together my sketches to show the publishers. I generally do the drawings or sketches on separate layers of tracing paper, so that I can easily change things and move them around. Once I settle on what I want, I scan the separate tracing paper sketches into the computer and combine them into one sketch. That's about the extent to which I utilize the computer in my artwork.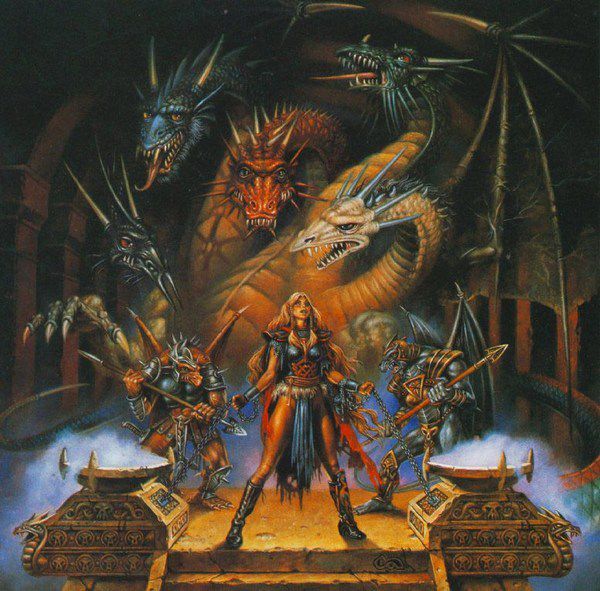 ©2009 Wizards of the Coast, Inc. All Rights Reserved
The japanese company YAMATO has begun a line of PVC products (statues/figures) inspired by fantasy art, and they have alreay contacted and produced PVC figures from some works of Vallejo, Royo or Cleavenger. Did thet contacted you as well ?
No, YAMATO hasn't contacted me. I've always loved the 3-D figures based on 2-D Fantasy Art...and the Japanese take it to a whole different level. They do incredible work.
Several of my paintings have been sculpted in various formats. 'The Worm Has Turned' was turned into a resin kit, 'Selene, Guardian of the Sanctuary' was the cover painting for a white metal model kit. There was a resin statue created based on my 'Celtic Princess' painting. A set of metal miniatures was based on my works from Dark Sword Miniatures...and many of my paintings for TSR were turned into miniatures by Ral Partha, back in the day.
Both the 'Celtic Princess' statue and 'The Worm Has Turned' resin kit are available on my website at: www.clydecaldwell.com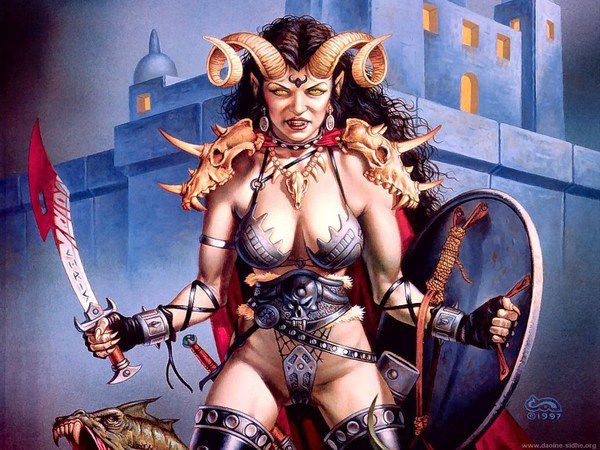 ©2009 Clyde Caldwell All Rights Reserved
How long does it takes to make a complete paint (in general) ?
That depends on the deadline and how many hours I want to put in on it during the day. As I get older, I tend not to want to work long hours. Generally it takes me about 6 weeks to produce a painting, but that includes reading the manuscript, doing some sketches for the publisher to approve, hiring and photographing a model, doing finished drawings for the painting and then finally painting the piece.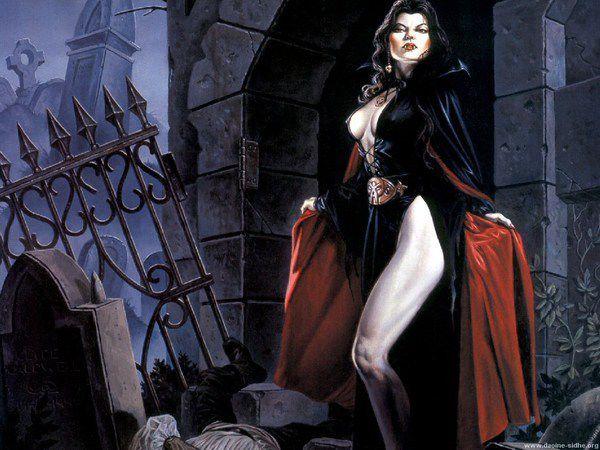 ©2009 Wizards of the Coast, Inc. All Rights Reserved
Do you remember a particular painting which was complicated or hard to finish ?
There certainly have been plenty over the years. It's usually more having to do with a tight deadline than the painting itself. Though I recently finished a book cover painting called 'Strip Mauled', which was fairly complicated, due to the fact that it had quite a few figures in it. And the piece I did for Ultra-Pro called 'Defenders of the Dragon' was fairly complicated in that they wanted a long painting that would be cut into three separated parts to be used in various ways on different products. That was a challenge and it took me much longer than usual to paint that one.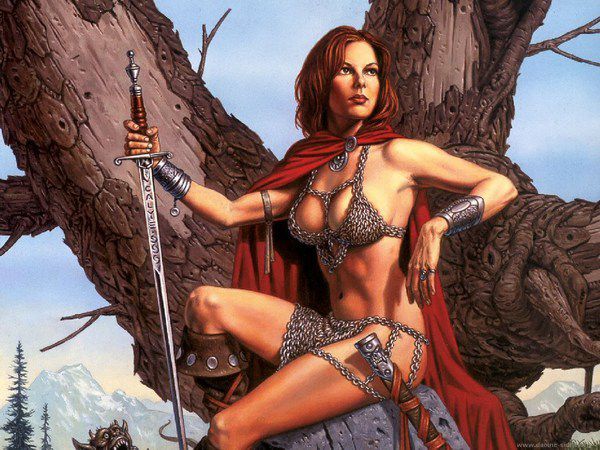 ©2009 Clyde Caldwell All Rights Reserved
Do you listen to a particular music to work ? Does it help ?
I've listened to a variety of music over the years while working. I started out listening to a lot of rock, and I still listen to rock fairly often...everything from the Beatles to ZZ Top. I got into some New Age stuff when at TSR. I'm a big fan of Moire Brennan (now called Moya Brennan) who was the lead singer of Clannad (and is also Enya's cousin.) I've got all of her solo stuff, plus a lot of the Clannad work she did. The two albums The October Project did back in the 90's are still personal favorites.
However now that I'm getting older I listen to a lot of talk radio while I'm working as well.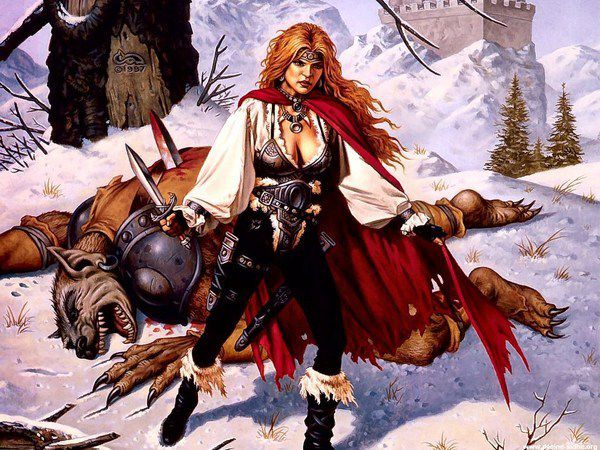 ©2009 Clyde Caldwell All Rights Reserved
Do you have a particular work that you are more proud of or that you like the most ?
Not really. I like some paintings more than others, but don't have a definitive favorite...or one than I'm necessarily more proud of than others. I prefer the paintings with strong, sexy female characters. That's my favorite subject matter.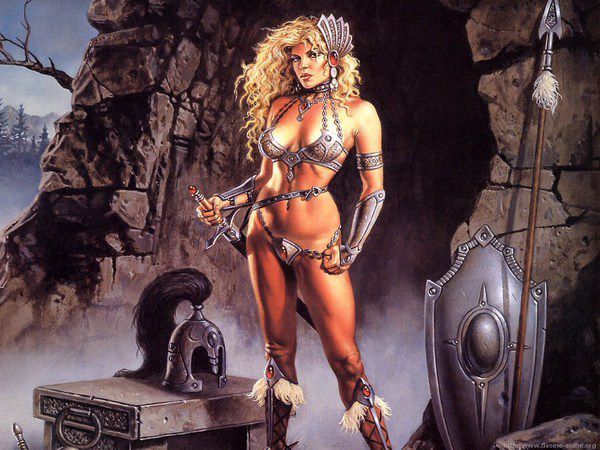 ©2009 Wizards of the Coast, Inc. All Rights Reserved
I saw recent calendars, but you haven't released new books since 2003 I think, so... is a new one coming ?
No new book plans in the foreseeable future. I do have a 2010 calendar (available at www.clydecaldwell.com) from Tide-Mark and am just about to pick out some images for the 2011 calendar. I've probably got plenty of good b&w images for another sketch book, but unfortunately there are no plans for publishing one at present.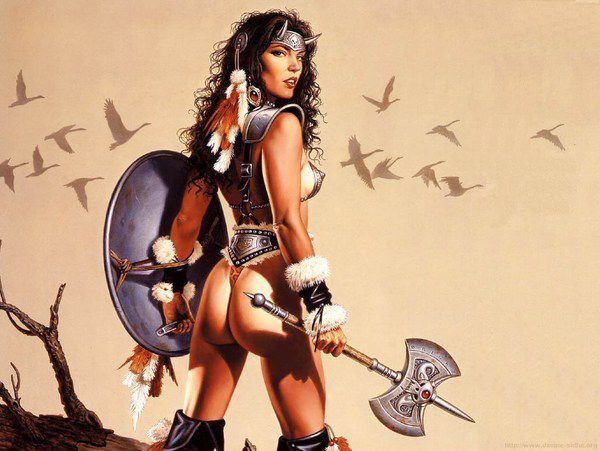 ©2009 Clyde Caldwell All Rights Reserved
Do you still work to produce covers for role playing games ?
I haven't done any new work for role playing games in many years, but have recently been selling reuse rights to some of my images as covers for game modules for Goodman Games. Their module, 'Dragora's Dungeon', even based the title of the module on the title of my painting. Plus my painting, 'Crystal Visions' was used as the cover for their module, 'Curse of the Kingspire'. They're also using my painting, 'Sonja's Revenge' as an upcoming module cover. Hopefully they'll want to use more in the future as well. Maybe they'll expose my work to a whole new generation of role playing gamers.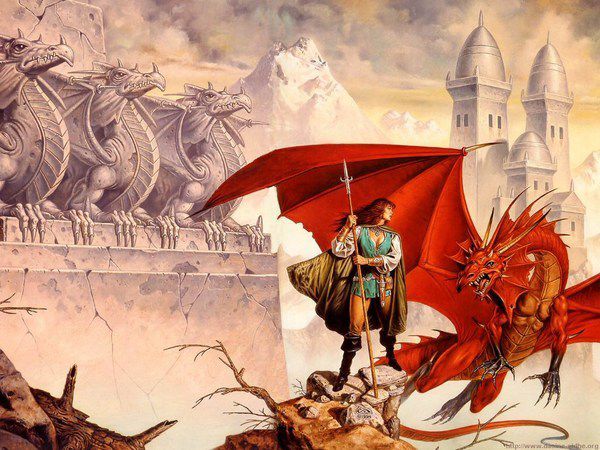 ©2009 Clyde Caldwell All Rights Reserved
I saw on your website a statue called "The Leopard & the Serpent". Where can we found it ? Is it still available for ordering ?
No, that statue is a one of a kind original done by a sculptor friend of mine, Janine Bennett. It was based on my painting, of course, but was not mass produced. Over the years, Janine has done quite a few of these one of a kind pieces based on my work.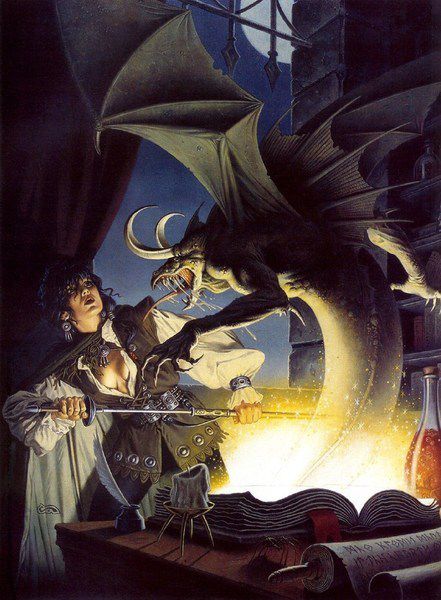 ©2009 Wizards of the Coast, Inc. All Rights Reserved
Do you have any new project (related to heroic fantasy) in sight?
I recently finished the cover for a book by P.C. Hodgell called 'Bound in Blood'. It's the third painting in a series which also includes 'The Godstalker Chronicles' and 'Seeker's Bane'. I just finished a private commission for a collector, a nice, finished pencil drawing called 'Slave Girl' which I'm hoping will show up sooner or later in a black & white, limited edition portfolio I'm planning. If not, it'll at least be offered as a limited edition print. Next I'm planning to do a personal piece which may wind up being the cover for the 2011 calendar. We'll see.

PERSONAL QUESTIONS
Famous artists usually don't answer directly to fans but you do. Do you receive a lot of emails or requests from fans ?
Everything is relative, but I seem to receive a fair amount of emails from fans. I've always tried to answer fans directly, simply because I appreciate the fact that they enjoy my work and feel that they deserve a personal reply, if possible. I've been doing that even before email, when I was typing replies to fan mail on manual typewriters!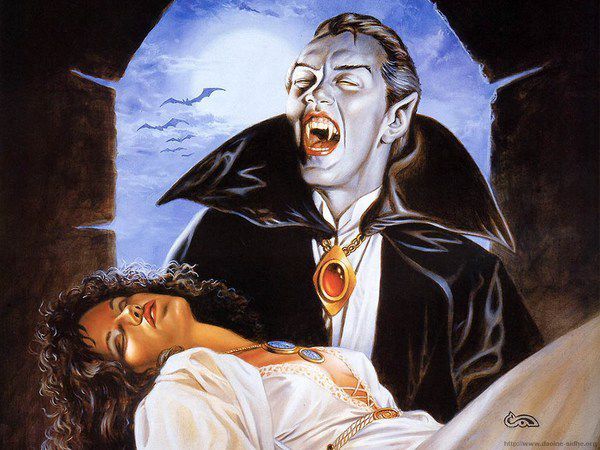 ©2009 Wizards of the Coast, Inc. All Rights Reserved
Your works can be compared to what Julie Bell or Boris Vallejo do, what do you think of their work ? Did you ever met them ?
I've always been a huge fan of Boris's work and enjoy Julie's as well. I was in graduate school and remember seeing my first Boris cover on an old Skywald horror magazine. I liked his work right away and started to look for it on other magazine and book covers.
I did meet both Borsis and Julie briefly at a GenCon one year, but didn't get a chance to speak with them at length. They were supposed to be guests at a con in Germany where I was a guest, but they had problems with their flight and never made it. Then I was supposed to be a guest at a con in North Carolina where they were guests as well, but I had to cancel. So I've never really had the chance to sit down with them and have a conversation.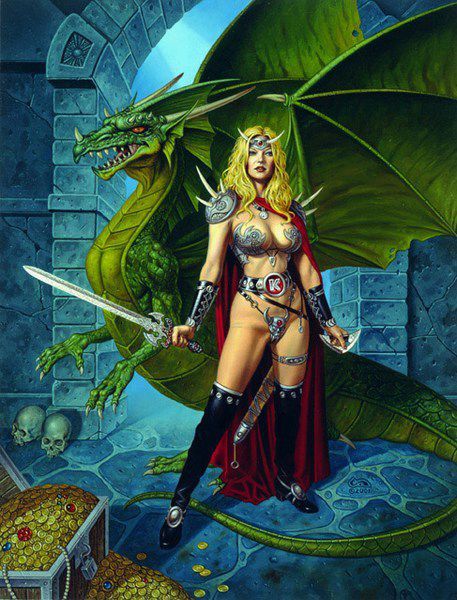 ©2009 Clyde Caldwell All Rights Reserved
You like heroic fantasy so... do you collect statues or fantasy stuff ? Dragons for example ?
My studio is full of various toys, animal skulls and odd, collectible bits. I do have several dragon statues, but lots of other stuff too. I have one of the original Mickey Mouse phones (which still works), one of the original Alien figures that came out when the movie was first in theatres, a big, possibly life size, Martian head from Mars Attacks, and lots and lots of books (many with my covers on them) and original paintings hanging on the walls. I could probably publish a small book based on the stuff in my studio.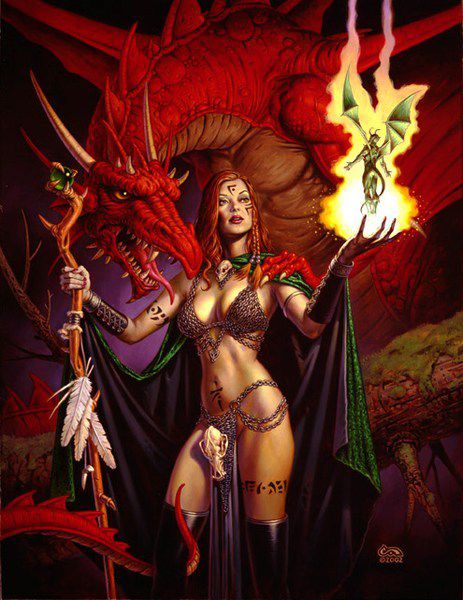 ©2009 Clyde Caldwell All Rights Reserved
I found funny the section of your website called "hidden treasure". Isn't that too hard to let your stuff fly away to be sold by your wife =D ?
Not really. I have tons of things accumulated over the past 30 years or so. Sometimes I even forget what I have until I go through it. It's kind of fun to pull some things out from many years ago and offer it for sale on the website. There are lots of people out there who seem to be interested in owning some of the old stuff. It's a collectible and nostalgia thing.
I just did a new website update (it isn't up as of this typing, but will probably be online by the time this sees print). I'm offering the original 1985 Dragonlance Calendars for sale in my "Hidden Treasures" section. These are the original calendars, in mint condition, even in the original shrink wrap. Of course I'm offering them signed.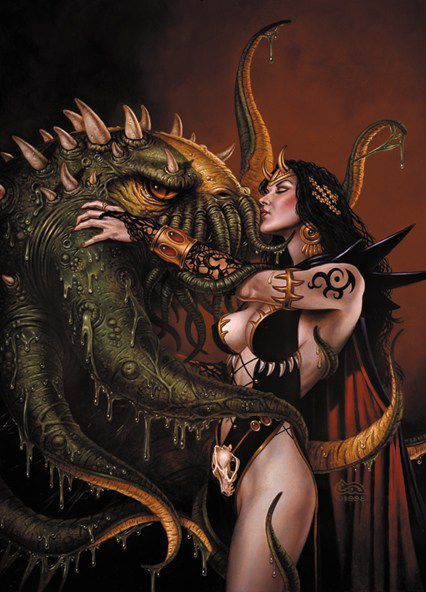 ©2009 Clyde Caldwell All Rights Reserved
Do you still go to conventions like Comic Con (or others) to meet your fans ?
I haven't been to a con in several years. I used to do quite a few, but sort of got burned out on them. I do miss meeting and talking to fans though. My wife, Sharon, wants to do some again, so we may get back out to some cons one of these days.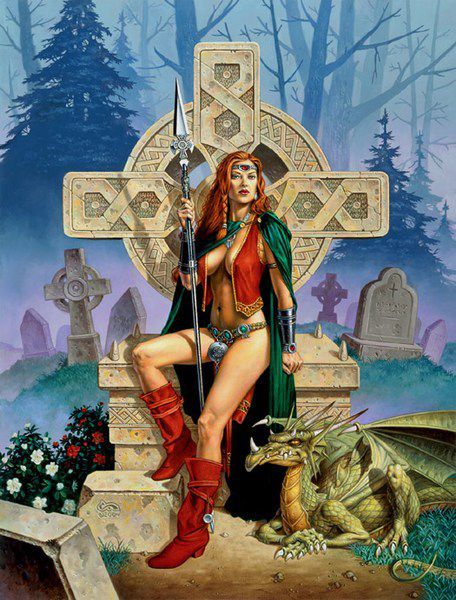 ©2009 Clyde Caldwell All Rights Reserved
Anything you wanna say to your fans or the readers ?
Thanks for your support and interest in my work over the years. I really appreciate it!
Voici un dessin original qu'il m'a envoyé :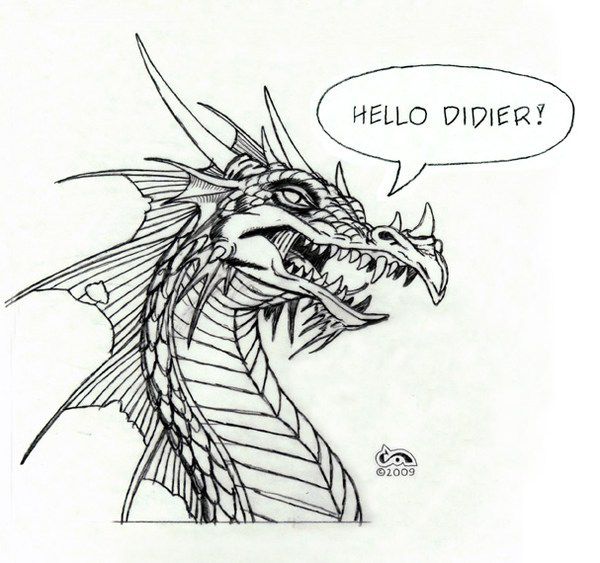 Son site perso : https://clydecaldwell.com/
Sa page facebook : https://www.facebook.com/Clyde-Caldwell-85751050670/